Hoe bekend is de blog boven je op het forum?
Entry posted by Bierbuikje ·
744 views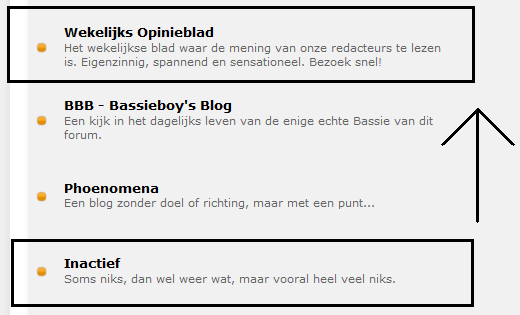 Vandaag in 'hoe bekend is de blog boven je op het forum?' het Wekelijks Opinieblad. Of nouja 'wekelijks', tot dusver is deze nog maar 1 keer uitgekomen dus in die zin heeft de redactie nog wat te bewijzen. De WOB is een frisse blog in GTAforum oranje kleur die het nieuws net 2 dagen eerder brengt dan de OWN, dus voor de OWN is het duimen dat er veel gebeurt op de zaterdag en zondag. De blog an sich komt uit de hemel vallen voor ons, maar de redactie daarentegen heeft al wel een grote historie op het forum. De gebroeders Visser23 en kornuiten zijn eerder al betrokken geweest bij blogs als The Oceans Blog (ERRWINS), GTAForum Verhalen (ERRWINS) en OWN (Visser23, ERRWINS en KaiSkillz) wat aangeeft dat we hier te maken hebben met een ervaren gezelschap. Voor het grootste deel teert de blog dus nog op de bekendheid van de redactie, maar nog lang niet op eigen naamsbekendheid.